Staffordshire University England UK
Staffordshire University England UK
About:
Since 1914 we have offered professionally inspired education of relevance to the age. Then our emphasis was on mining and pottery. We now provide everything from Computer Game Design to Forensic Science.
Our vision and values ​​are the foundation of Staffordshire University; it's how we do things. This will never change.
In puzzles. Thought provocateurs. Mind expanders.
We are a friendly university with a global edge. We place literally in the middle of everything, in the middle of the UK.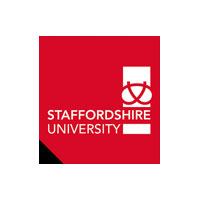 We don't just push boundaries, we break them.
We don't just open books, we open minds.
Our core business is based on two campuses in Stoke-on-Trent and Stafford, followed by two locations in Shrewsbury and Lichfield.
Teaching faculties that were previously split across two campuses will come together resulting in more concentrated investment in facilities. There will be major upgrades to learning and social spaces.
Our satellite campuses in Stafford, Lichfield and Shrewsbury will become centers of excellence in health, education and nursing and midwifery, and will also benefit from investments in buildings and facilities.
Staffordshire University Degrees / Programs:
Let's take a look some of the degrees offered by the university.
MA in Journalism
Master of Science (MSc)
MSc in Accounting and Finance
MSc in 3D Computer Game Design
MSc in Cloud Computing
MA in Music Technology
BA (Hons) in Events Management
BSC in Forensic Science
BA in Advertising and Brand Management
BSc (Hons) in Psychology
Masters in Business Administration – MBA
Staffordshire University Address:
Staffordshire University, College Road Stoke-on-Trent , England , UK
University Facebook:

University Twitter:

University Website:
Want to Read or Visit the Official Site Click Here.
Staffordshire University Admissions:
information will be update soon….
Source: staffs.ac.uk