Pros and Cons of Business School – Students Review
Business School Pros And Cons
In fact, everything is the same as what you will read below. Bloomberg Businessweek conducted a survey among 2014 graduate students, the results of which were taken into account when compiling the ranking of the best full-time MBA programs. Space was left in each questionnaire for the respondents to express themselves. The Businessweek editors selected ten testimonials from students at each business school and published them in the general information section of the schools. This is a very useful resource for applicants, which can be found here .
Students have always found pros and cons in MBA programs. However, reading their comments, you immediately notice that there are much more positive reviews than negative ones. Harsh criticism is rare. MBA students are generally satisfied with their programs, which is regularly confirmed by the results of surveys conducted by GMAC .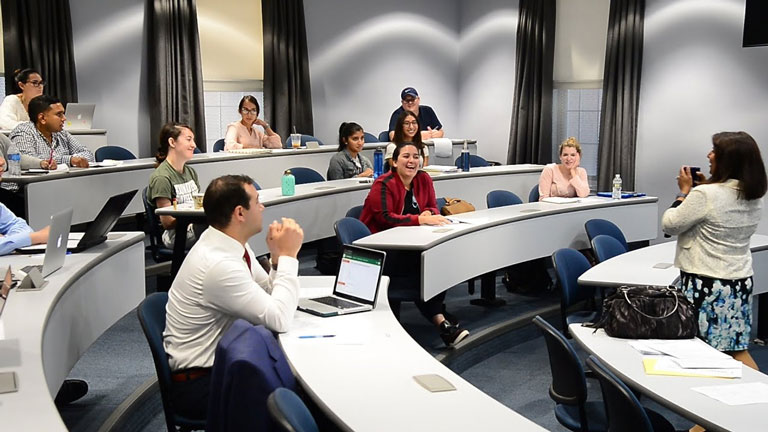 The most positive reviews are dedicated to classmates
What do you usually get the best feedback on? Students often praise their classmates for their intelligence, attentiveness, diligence and cheerful disposition. Another positive feature is the large number of representatives of different nationalities among students. Business school students note that they have learned a lot from their classmates and thank them for their support in studying and finding a job. Many graduates believe that studying at a business school has changed their lives for the better.
Of course, it is not completely without criticism. Basically, students complain about problems with employment, especially during periods of economic crisis. As the MBA job market has improved significantly in recent years, with earnings reaching near-record levels, there are far fewer students criticizing career management centers this year. Instead, different shortcomings are noted depending on the business school. Someone does not like the quality of teaching, someone thinks that the student body is not cohesive enough.
Harvard Business School students are dissatisfied with the size of the campus and the fact that the staff has become more fragmented compared to the first year. At Stanford School of Business, some students don't like the fact that teachers put an entrepreneurial culture first. One Chicago Booth student commented that the business school was too difficult to get to. Most often, students believe that the disadvantages of the program do not outweigh its advantages. Moreover, they themselves would like to help the business school become better.
Also Read : 7 Career Steps Every New MBA Should Take
Here are some examples of feedback from graduate students in 2014.
Harvard Business School
"HBS is a well-known and respected brand. The business school offers a high quality education, excellent conditions for work and networking. You can't argue with that. However, the main advantage of HBS is in the social sphere. During the training, students make a huge step forward in their development. Thanks to HBS, I learned to express my thoughts better, became a more confident, balanced, focused, tolerant, attentive and decent person. In addition, it was at this business school that I met people who later became my close friends. I was able to travel. I have very vivid memories of business school. Thank you HBS.
"The main disadvantage of the situation analysis method that is widely used in HBS is that it does not allow you to develop mathematical skills. I had to go to Khan Academy and Wikipedia to get any idea of ​​what was going on."
"A lot of people study here – it is not easy to create a friendly team. In the first year, students are quite united, but then they become more and more distant from each other.
Stanford Graduate School of Business
"I like the people who study here: they are high-class professionals who remain friendly, open and responsive. I also like that there are few students in the groups, and that the business school is not only physically located next to Silicon Valley, but also closely connected with the high-tech industry. It is also worth noting that Stanford creates excellent conditions for the development of leadership qualities and opens up many opportunities for the student, which relate not only to study."