Vrije Universiteit Amsterdam Netherland
Vrije Universiteit Amsterdam
Vrije Universiteit About
Vrije Universiteit Amsterdam ("VU Amsterdam") is a world-renowned research university founded in 1880. 175 English-language programs offered by the VU with more than 25k students. Students and staff from 122 nationalities create a vibrant international academic community.
The campus is surrounded by one of the most dynamic and fastest growing business districts in the Netherlands, home to over 700 companies.
Vrije Universiteit Mission
With over 26,000 students, of which 4,088 are international, VU Amsterdam conducts cutting-edge research on social and scientific issues. We excel in research and education across four interdisciplinary themes: human health and life sciences, science for sustainability, connected world, and governance for society. As a student, this will help you look beyond the scientific disciplines and look for tangible solutions for a better world. In addition, VU Amsterdam sees diversity, whether in culture, beliefs, nationality or prior education, as a source of innovation and progress and therefore a special strength.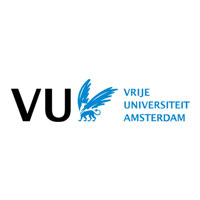 You work in relatively small groups where there is a strong emphasis on interaction and a personal approach. The teaching is well organized. This is reflected, for example, in the clear structure of the curricula.
Vrije Universiteit Degrees / programs
Let's take a look some of the degrees offered by the university.
VU Amsterdam offers four types of programs:
Undergraduate programs (leading to BA/LLB/BSc)
Master's programs (leading to MA / LLM / MSc / MPhil)
PhD / Doctorate Programs (leading to PhD / Doctorate)
Non-Degree Programs (Study Abroad & Exchange / Summer / Winter School)
MA Curation of Arts and Culture
Master of Arts: Environmental Humanities (Research)
Master of Science (MSc)
M. Sc. in geosciences
M. Sc. in social sustainability (research)
Master of Science in Business Analytics
Master of Science in Hydrology
Master of Science in Clinical and Developmental Psychopathology (Research)
Master of Science in Business Data Science (Research)
Master of Science in Environmental and Resource Management
Master of Science in Ecology and Evolution (UvA-VU Joint Program)
Master of Science in Political Science
Master of Science in Social and Cultural Anthropology
Master of Science in Econometrics and Operations Research: Climate Econometrics
Master's degree
Master in Earth Sciences
VU Amsterdam is a traditional Dutch university headed by an Executive Council (three members) and has 10 faculties directly under the Executive Council. Each faculty provides one or more undergraduate and graduate programs and conducts research. They are all organized differently, but most have a council, a central staff, and several departments and graduate schools. The university also has a number of service departments, one of which is the International Office, and there are a number of interdisciplinary research institutes.
Scholarships
Through our own VU Fellowship Program (VUFP), we offer highly motivated students with excellent learning outcomes a unique opportunity to earn a master's degree with university funding. The VUFP Scholarship is exempt from tuition fees. The Dutch Scholarship Program (HSP) is designed for students from countries outside the European Economic Area (EEA) who wish to study on a master's program in the Netherlands.VU Amsterdamsees diversity as complementary to our teaching, research and our contribution to society. This scholarship is specifically for high achievers who contribute to the diversity of our campus. As an international student planning to study atVU Amsterdam, you can apply for various grants and scholarships.
Vrije Universiteit Address
Main building Vrije Universiteit Amsterdam
De Boelelaan 1105
1081 HV Amsterdam , North Holland , Netherlands
Vrije Universiteit Facebook

Vrije Universiteit Twitter

Vrije Universiteit Website
Want to learn more at the official website than click here.
Vrije Universiteit Admissions
Soon…