Best Country for MBA Study
Best Country for MBA Study
A manager who aims for an MBA degree should think about the place of study. You will have to choose from three options – the USA, Europe or homeland. And although these educational systems grow from the same root, their differences are fundamental.
Similar, but not identical. Business education was invented by the Americans and made MBA programs popular all over the world. The oldest US schools have a hundred-year history, while their European counterparts can boast only half a century of teaching experience: the Swiss IMD opened in 1946, the French INSEAD in 1958, the British LBS in 1965. All of them were at first more or less successful copies of American schools. Business education has only recently jumped out of children's pants, is just getting ready to celebrate its coming of age and is still very dependent on its Western forefathers.
But these historical criteria should not dominate you when choosing an educational region. Experts assure that globalization is doing its job and national differences in management training systems are gradually leveling out. And yet, both American, and European, and programs have obvious distinctive features, and they should be thoroughly studied before choosing a particular educational institution.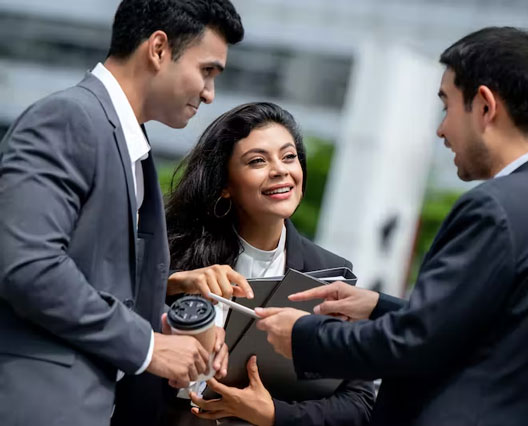 In the USA, the most common are the classic two-year Full-time MBA programs (from the English "full employment"), where you will not be able to work while studying, and in general your whole life will most likely be concentrated within the walls of the school: here you will communicate, have fun, study sports, look for work, and only in the summer you will get out for an internship. Students of American business schools most often gain experience in local companies or large international organizations based in the United States. The first year of study is devoted to the development of basic business disciplines, the second – specialization through self-selection of courses that interest you.
The largest American schools are a serious scientific base, teachers-stars, guest speakers who are invited to share their experience or give a course of lectures – entirely famous businessmen, politicians, public figures. This is an increased attention to the social and charitable sphere, a strict selection of candidates, a branching network of graduates who are ready to help with advice and deed, and, of course, a brand known throughout the world. what impression the employee's status will have on the company's clients and partners. From this point of view, the leading US business schools win, as their diplomas are quoted in all regions, while diplomas from European schools are convertible only within the Eurasian continents," says Newton Advice Bureau consultant Yaroslava Maltseva-Grinfeld. But overseas business schools also have less attractive features: the perception of national business as global and the only interesting one; undisguised love for leaders and individualists; competition as a basic principle of relationships between listeners. Team building and cooperation, as a rule, are not involved. For this, go to Europe. undisguised love for leaders and individualists; competition as a basic principle of relationships between listeners. Team building and cooperation, as a rule, are not involved. For this, go to Europe. undisguised love for leaders and individualists; competition as a basic principle of relationships between listeners. Team building and cooperation, as a rule, are not involved. For this, go to Europe.
Starting with imitation, the business schools of the Old World very soon offered students a product that was different from the "original source", much more convenient and competent, especially in today's rapidly changing world – a short, one-year MBA program. Two years of absence in a real business do not pass without a trace, sometimes it takes a lot of time to re-adapt. European programs are distinguished not only by the shortened time of study, but also by the richness and other content of the courses. They don't waste time on basic disciplines, they start right away with specialized ones. Internships are usually held in different countries, European, Asian, African, which allows students to get acquainted with a variety of business cultures. Another strong feature is the multinational composition of listeners. "The task of business education in the United States is the constant reproduction of established models and patterns of doing business. Hence, rather strict regulation and little flexibility both at the level of specific professionals and the system as a whole. The task of European business education is to make non-standard management decisions, many of which should be focused not on today, but on the business models of the future, "says Evgeny Utkin, president of Kvazar-Micro and INSEAD graduate.
Schools, two-year programs are mainly presented, but they are taught in a modular, part-time or evening format, and students can combine study with work. On the one hand, it is difficult, on the other hand, you don't need to leave your home, family, spend money on moving and living, usually not in the cheapest cities and countries, and most importantly, quit your job. This is the first obvious plus, the second is the focus on local business specifics. Vice-Rector of the Mirbis School of Business Elena Zubkova develops this idea: "The main difference between the best MBA programs lies in their decisive focus on the national business context. The domestic business environment is too young and has many individual characteristics. A kind of corporatism has developed, which is not quite suitable for graduates of Western business schools.
You go there. When should you go for a business degree in the US, when should you look at European schools, and when should you choose a program? "It all depends on how a person sees his future career," says Anna Rubalskaya, Head of the Department for Work with Educational Organizations at Begin Group. "It is worth going to the USA if you plan to radically change your specialization, and also think about working in this region. It is better to go to Europe to deepen your specialization. In addition, you need to ask yourself where you want to work. Everything should be based on the principle "where we earn, we spend there," adds Dmitry Bondar, Executive Director of MBA Strategy. If there is no relocation or long-term residence abroad in your career development plans, then perhaps the best solution would be to get an MBA. In addition to lower costs, this will provide useful connections in the business environment where you intend to continue to operate.
Evgeny Utkin expressed an interesting point of view: "If a manager plans his future 10 years ahead, I would recommend him to go to the USA, if 20 years – to Europe. But it's no secret that the majority of want our children to study "with us" – after all, here is a built-in system, and the highest qualifications of teachers, and the practical experience of specialists who have passed the path of several generations in business in a short time. Education has always been our strength. If the West did not always recognize diplomas, they always valued specialists. No wonder Denis Livens, professor at Northeastern Missouri State University, told American students at a lecture three years ago: "If you think, then go to Europe, if you do it, then go to the USA."